Special Christmas Discounts!!!
Power Phone Book
Enterprise Edition
Awarded by
BrotherSoft
5 Rating and
Editor's Pick!!!


DGalaxy.net » Home » MagicScore Maestro
MagicScore - the sheet music software.
NEW!!!
Version for professionals - MagicScore Maestro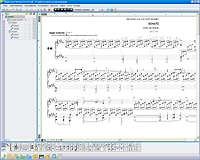 MagicScore Maestro is a sheet music software. This music natation software allows creating compositions of any complexity, including polyphonic ones. Virtual piano, guitar tones, partita entry from a MIDI-device, ability to work with chords, extensive opportunities for editing and fine adjustment of sound of your composition. All of the above and many other functions of MagicScore Maestro will assist you in your creative work. The program will compute the playback of effects for you (Arpeggio, Gruppetto, Vorchlag, Trillare). Having experienced the wonderful abilities of MagicScore Maestro, you will receive a great pleasure from using it. You will see the wide opportunities of partita editing. You will feel the ease of creating your compositions. You will be able to adjust the sound of each note and of the entire composition precisely, according to your wishes. You will realize the benefits that this program entitles you with. This music natation will help you prepare yourself for concerts and performances. With its help, you can be self-assured in the most responsible moments. With assistance of MagicScore Maestro, you can create magnificent compositions, and you can have that done in the best possible manner.
MagicScore functionality:
- Automatic control of a correctness of input information.
High functionality of editing (copying, insert, deleting, transposition
separated notes and selected blocks of notes).
- Addition the notes through the virtual piano.
- Chords builder.
- Capability of binding to all units of score the comments, references and
other units of design.
- Regulation of volume, balance and effects for each racetrack (score instrument).
- Reading from the file of the MIDI format, and record the information in
the MIDI format.
- Play of the input notes separately on instruments, and on the whole orchestra.
- Printing od score with preliminary review of the printed information.
- Support of operations Drag&Drop.
- Undo, Redo operations
- Record score through MIDI device.

Expanded features of the "Maestro" version:

- Export image to the graphic formates (GIF, JPEG, BMP)
- Orientation management of the text on the sheet (for displaying of the text you can use any angle).
- Calculation the loudness of the notes by dinamics symbols which placed in the music staff.
- Calculation of the playing of the effects (Arpeggio, Gruppetto, Vorschlag, Trillare) by symbols of the music staff.
- Editor of the real playing the notes for changing of the position and duration of the notes for the playing directly.
- Saving pattern of the chords for following their using in program or in external files.
- Upgradeable list of the music terms.
- Addition the chords through the virtual guitar fret.

Awards
MagicScore Maestro on prestige sites