Special Christmas Discounts!!!
Power Phone Book
Enterprise Edition
Awarded by
BrotherSoft
5 Rating and
Editor's Pick!!!


DGalaxy.net » Home » Our software
Our software
Here you will find our programs. Enjoy all of the software's features downloaded distributives. Enjoy interface, get information about how to register our software, how to get technical support and more.
Phone Book - comfort, reliability, effectiveness
Program Phone Book became a winner triple and got logo "Yes, It Works" from test lab of PC Magazine/RE in frames of conducted by Microsoft program named Microsoft Office Extensions.
Last name, First name and Patronymic
Birthday
Phone numbers (work and home with area code) 5 numbers for every field
Address
Work place, positions
E-mails
Internet URLs
ICQ numbers (UIN)
Nicknames and other information
Phone Book has powerful search system (quick search on main fields and advanced search on any field); it gives opportunities to: sort information, print out, dial up phone number directly from application (in case of presence of modem), surf Internet links, start e-mail client, start ICQ, export data to in Excel or HTML, export and import data for transfer from one computer to other, create (manually and automatic) backup copy and restore data from backup, protect the information with password.
| | | |
| --- | --- | --- |
| | Features: Simplicity and comfort in use, high reliability, protection information with password, powerful and comfortable search system, automatic backup and restoring of data, styled and comfortable interface, dial up of phone number, export in Excel and HTML. | |
Power Phone Book - organizer brining you the profit
Power Phone Book is an organizer of new generation.
It has all standard functions as modern organizer, additionally allows to user, to set up data access thru Internet, all over the world, providing high level of security.
Server Firebird, which used in this solution as database engine is a modern entity of Interbase SQL Server. Firebird.
Features of Power Phone Book:
Simplicity and comfort in use
Styled interface
Powerful and comfortable search system
Backup/Restore of data
Dial up of phone number
Export in Excel and HTML
Protection data with password, providing high level of security
There are local and multi-user versions for LANs, intranets and Internet, high level of security, integration with dial up, e-mail client, browser and ICQ.
The Power Phone Book exists in two entities:

Enterprise Edition - corporate, for big firms and enterprises;
Personal Edition - for use in small and middle firms, and for personal use.
Power Phone Book is ease in administration; local single-user version does not need any administration, because all needed settings perform by program itself. Multi-user mode needs only couple of parameters on client computer.
MagicScore Maestro- the music notation software!
NEW!!!
Version for professionals - MagicScore Maestro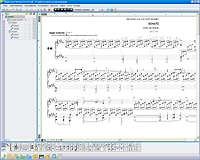 MagicScore Maestro is a magnificent musical editor. This music natation software allows creating compositions of any complexity, including polyphonic ones. Virtual piano, guitar tones, partita entry from a MIDI-device, ability to work with chords, extensive opportunities for editing and fine adjustment of sound of your composition. All of the above and many other functions of MagicScore Maestro will assist you in your creative work. The program will compute the playback of effects for you (Arpeggio, Gruppetto, Vorchlag, Trillare). Having experienced the wonderful abilities of MagicScore Maestro, you will receive a great pleasure from using it. You will see the wide opportunities of partita editing. You will feel the ease of creating your compositions. You will be able to adjust the sound of each note and of the entire composition precisely, according to your wishes. You will realize the benefits that this program entitles you with. This music natation will help you prepare yourself for concerts and performances. With its help, you can be self-assured in the most responsible moments. With assistance of MagicScore Maestro, you can create magnificent compositions, and you can have that done in the best possible manner.